Skip to Content
Pool Supplies for Myrtle Beach & Columbia, SC's Regular Care
Lanier Pools and Spas is well-versed in a wide array of pool services, including installations and maintenance. Commercial and residential pool owners may have some tasks to do themselves to keep their pools in top condition. As a well-established pool company since 1998, we provide our customers with a wide selection of pool supplies at our location in Myrtle Beach, SC, serving the entire Grand Strand, and our home location in Columbia.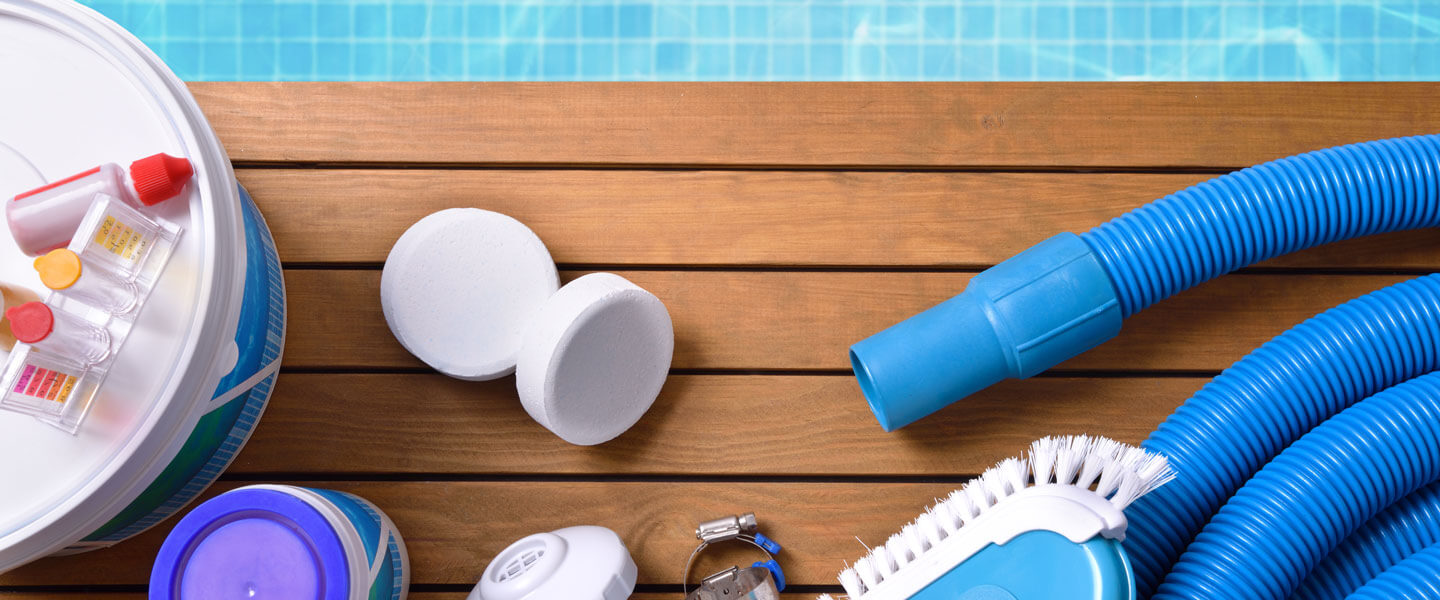 Benefit From Our Extensive Inventory of Pool Staples
Pool supplies are a mandatory part of owning a pool, and Lanier Pools and Spas understands the value of finding essential items in one place instead of shopping at multiple locations. Our inventory of supplies covers a broad range of items, including the following:
Pool Cleaning Chemicals
Your water's cleanliness and safety are paramount to enjoying a dip on a hot summer day. We offer various essential chemicals to keep your water balanced and free of bacteria and other harmful substances. Come to us for chlorine, sanitizers, water balancers, and specialty chemicals, ready to use for regular pool upkeep. Algae is another concern, so we can keep you stocked with algae control to keep the green growth out of your water.
Skimmers
Leaves and debris are bound to end up in your pool, and other items might fall into the water and need retrieval without diving in. Our supply collection includes pool skimmers and other handy tools to skim the water's surface and remove any gunk or debris, including lawn clippings, moss, and pool toys your kids leave floating in the water after playing. We have these items at friendly prices, and we are ready to deliver them quickly so that you can keep your water clean and clear.
Pool Filters
As runoff from swimmers' bodies, dirt, and other sediment get into a pool's water, your filters continually clean all these contaminants out of it. This filtering keeps your water safe to swim in, but the filters need regular changing to ensure they perform at their best. When contaminants build up in your filters or start failing to keep up with cleaning, we have filter cartridges and other staple cleaning items available to keep your pool water in top condition.
Pool Cleaners
Automatic devices are an excellent way to ensure your pool's surfaces and water stay clean and ready for summer fun. Our collection includes various options, including cleaning equipment, chemicals, and automated devices like suction cleaners, pressure cleaners, and robotic cleaners. Every pool owner knows the struggle of keeping up with their pool's cleanliness, and our team helps them stay in good shape with the industry's most trusted brands and models.
Lanier Pools and Spas Has You Covered
Don't run around town or scour the internet to get the pool supplies you need. Lanier Pools and Spas offers various supplies to keep your water clean and safe, including cleaners, skimmers, and filters.
Schedule Pool or Spa Service at Your Home or Business